Your bridal party has been there for you through thick and thin, so it's time to show them some love! Looking for bridesmaids gifts you know they'll like? Check out this list of bridesmaid gifts. You'll find a little bit of everything to fit every budget and every personality.
11 Bridesmaid Gifts They'll Love
Makeup or Skincare Product
Do you have a favorite go-to makeup or skincare product you think they'd love? Or maybe you already know what's on their wish list. Mumu Bath–a local skincare boutique founded by yours truly–features a growing line of giftable handmade soaps and skincare products. Check it out! Feel free to reach out with questions or bulk order requests for wedding party gifts (we've got options for the guys, too).
Personalized Tote Bag
Keep everything neat and organized on your wedding day with a gift that helps you out, too! Personalized totes are a cute, uniform way to store personal items while you all get ready (and they photograph well!) Plus, you can bet they'll use their handy totes again and again. Choose a style that best matches your crew: classic canvas styles, fun and funky tropical prints, or sporty and waterproof totes.
Classic Jewelry Pieces
A word of advice here: if you go the jewelry route, opt for simple, classic pieces. It can be hard to nail down each bridesmaid's style with colorful, unique pieces. So simple-yet-elegant hoop earrings, silver studs, a gold tennis bracelet, or a pendant necklace that will match their bridesmaid's dresses are all great options. This elegant pendant necklace by Kendra Scott is extra versatile and will accentuate the neck line.
Kendra Scott Fern Pendant Necklace in Gold
Silk Robe or PJs
As a wedding photographer, I'm a little partial to silk robes because they lend themselves to lovely getting-ready photos with your bridal party, too. You can even purchase child-sized robes for the flower girl(s). This Etsy shop has a pretty good selection of colors to choose from (but keep in mind, the personalization is pressed on rather than embroidered to keep costs lower). Alternatively, you could also go with matching PJ sets that you know they'll use. Birdy Grey has all kinds of good finds for wedding accessories, bridesmaid dresses, and bridesmaid gifts.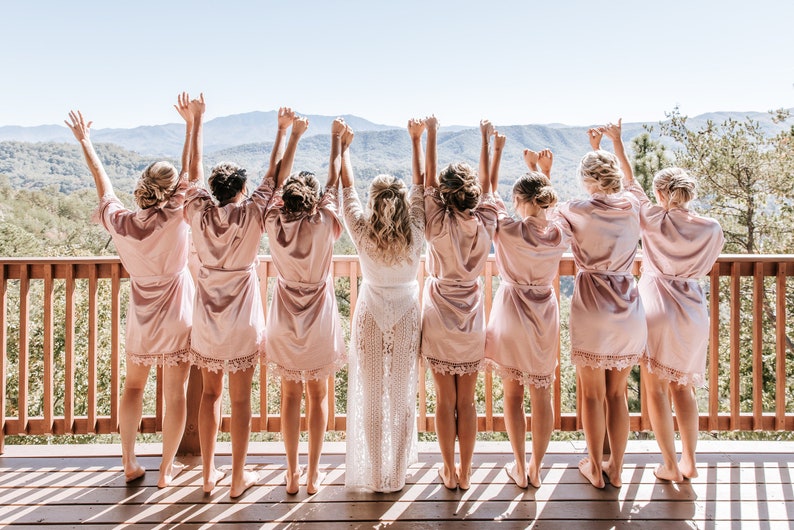 Sunglasses
Have your party covered this summer with new sunnies. Sunglasses are a great gift idea for the entire wedding party—one style for the ladies and another for the gents. Or, having fun mixing and matching! These are really cute if you're doing outdoor portraits with your wedding party too.
Quay Austrailia High Key Mini Sunglasses
Makeup Bag or Clutch
I like this handmade genuine leather makeup bag because it can easily double as a clutch and a makeup bag. You can personalize these bags, and I love the classic look and sturdy material every bridesmaid will love.
Ball Caps with Ponytail Cutout
These cute high/low ponytail ball caps for women with varying hair lengths. They are comfy and functional—great for warm summer days!
Compact Mirror
"Do you have a mirror?" We've all asked that at some point. Even if makeup isn't your thing, stray eyelashes, hair emergencies, and quick checks before meetings make compact mirrors a necessity for most. I love these personalized bamboo mirrors because metal mirrors tend to get scratched easily. These are extra durable and chic.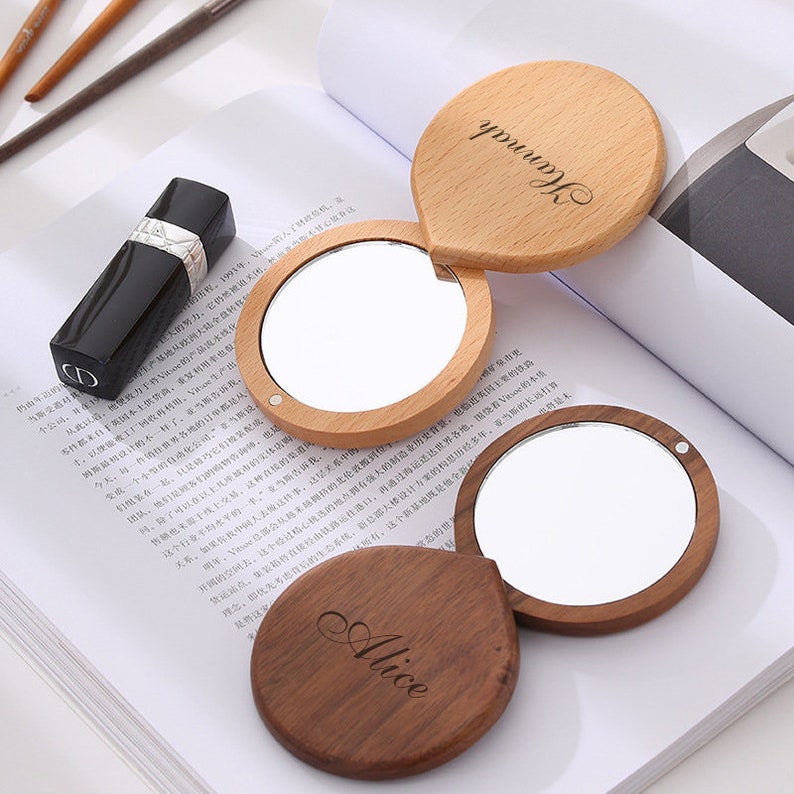 Creations Happy Design Etsy Shop
Photo Album or Photo Gift
Do you go way back with your bridesmaids? Round up a few of your favorite photos with you and the girls (individually or all together), and give the gift of fond memories. Most of us are pretty bad about printing the photos on our phone, so now is the time! Order professional-grade prints and gift your bridesmaids with framed photos, or you could create flipbooks, albums, or other photo products.
Coffee Tumblers or Stainless-Steel Water Bottle
Looking to add something extra to your gift? You can't go wrong with a cute coffee mug, tumbler, or water bottle. You could easily combine the mirror, tumbler, and a half-bottle of rosé to create personalized bridesmaid boxes.
Personalized Gifts for Each Bridesmaid
If you're working with a smaller budget, it truly is the thought that counts. Get creative with genuine gifts that match each bridesmaid's personality (and don't break the bank). For instance, you might gift a potted succulent arrangement to the gal with a green thumb; a ring light and tripod for the influencer or makeup artist; art supplies for the creative in your group; a classroom door sign for your teacher friend; and maybe personalized pet gear for the fur mama.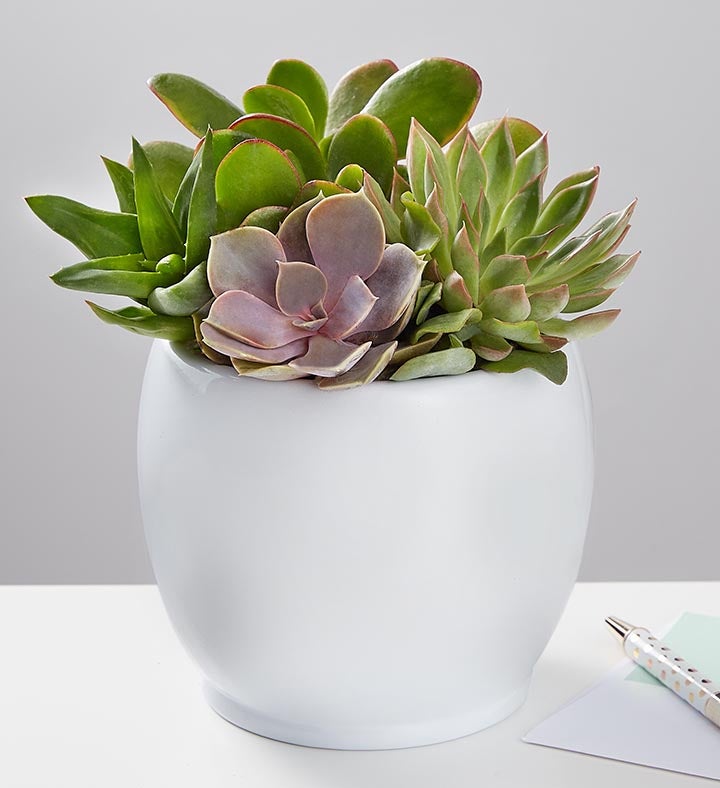 1-800-Flowers Succulent Garden by Real Simple
Book Your NYC Wedding with Sasha Chou Photography
Sasha Chou is a boutique NYC engagement, wedding, and maternity photographer. She specializes in timeless, photojournalistic images. Discover her style by visiting her portfolio here. Learn more about the dedicated Sasha Chou Photography team here.
To book video or photography services or learn more about wedding packages, click here.
Don't forget to follow us on Instagram @sashachouphotography and Facebook @SashaChouPhotographyStudio to see what we're up to!